Bro Andrew Richard in Colorado, America
Colorado, Denver prayers - April 13th | 30th
07-04-2017
---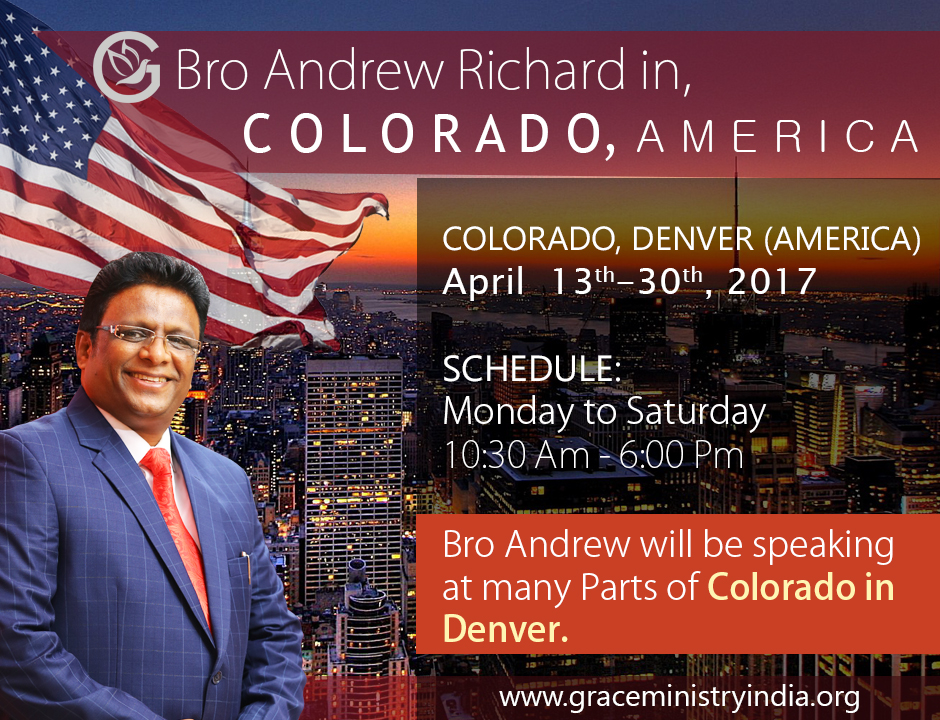 Bro Andrew Richard in Colorado, Denver, America from April 13th to 30th for prayers and counseling in and around Denver.
Grace Ministry Mangalore is dedicated to building up believers' faith and deepening their walk with Christ, so they can live the victorious life God promised, come join me and be Blessed.
Colorado, Denver April 13th - 30th
SCHEDULE
Monday to Saturday 10:30 Am - 6:00 Pm
(Counseling and Prayers)
Also, Bro Andrew Richard will be speaking at many parts of Denver, Colorado (2017 Victory Campaign)
---
Join Bro Andrew Richard For Easter Sunday service in Colorado, America
Special Easter Sunday Service - 16th April at 10:00 AM - 1:00 PM
Venue:
Hour of Hope church,
1602, South Parker Road,
Suite 105, Aurora CO,
Denver, Colorado
Each session is unique and will include a powerful message from Bro Andrew Richard, as well as worship from Hour of Hope Church.
Admission is free. No registration is required. Seating is available on a first come, first served basis.
Doors will open at 9 AM on Sunday, so be sure to arrive early so you can grab a seat and have time to check out our resource tables.