Grace Ministry Mangalore wishes you a Happy Feast of Nativity of Mother Mary 2020.
Happy Feast of Nativity 2020
08-09-2020
---
Grace Ministry Mangalore Family wishes you happy Nativity Feast 2020 (Monthi Feast). May our lady of nativity shower upon us her choicest blessings peace and grace. May the good God Bless us.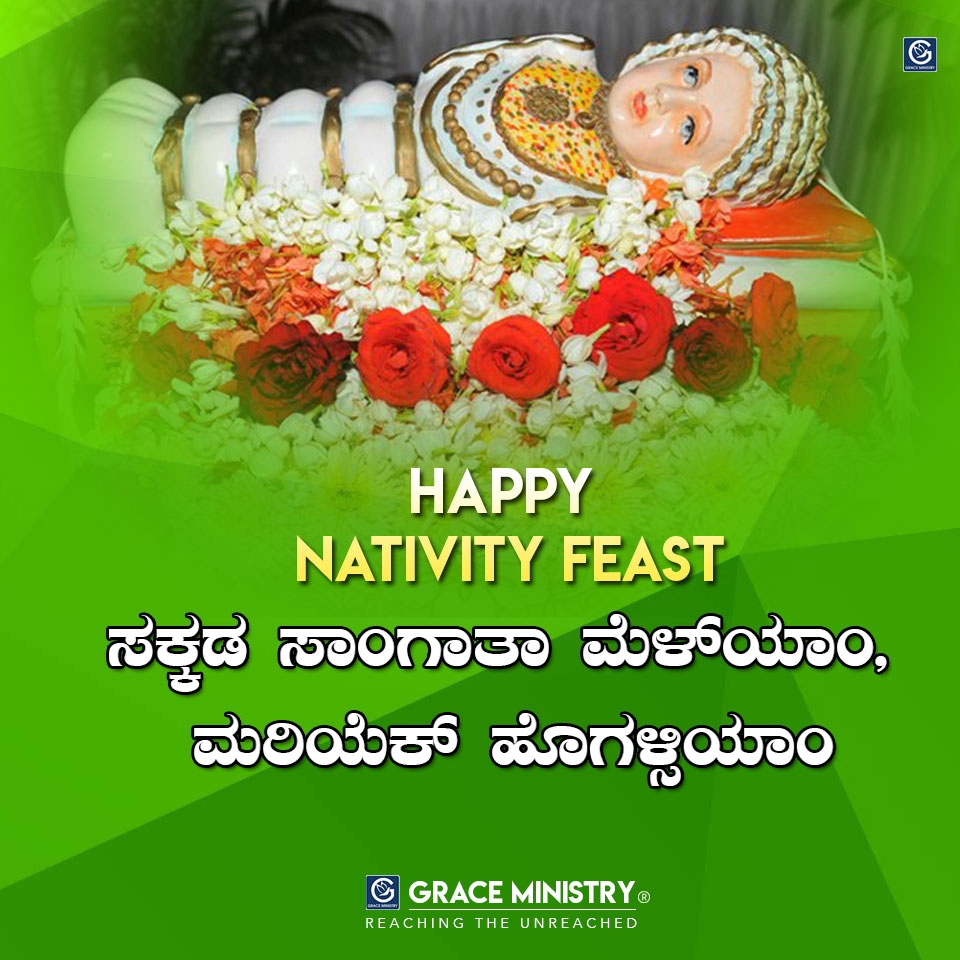 Feast of Nativity: A Reflection
If we go back to Bible - Old Testament - God sent several Prophets like Isaiah, Jeremiah, Jacob, Abraham Moses and so many, but still mankind did not turn to God, but God loved man so much that He, at last, sent his own son Jesus Christ in order to save man from bondage or sin so that man can reunite with God, who forgives every sin by the blood of Jesus who gave away his life for the sake of mankind's redemption or salvation.
With this plan God selected Mother Mary in His salvation plan, and accordingly God sent Angel Gabriel to Mary and gave the message that she will bear a son through the Holy Spirit (we know St Joseph was her Posco husband, that is, caretaker husband) and the son will be called Emmanuel (Jesus) l or simply God amongst us. This made Mary exhausted and fearful, but Gabriel told her, "Do not be afraid. I was sent by God to convey this message to you." At once Mary lost her fear and kneeled down and bowed to God and obeyed with all her faith what God had decreed. She said to Angel Gabriel, "I am the handmaid of the Lord."
Mother Mary's faith was so strong that at once she praised God and said let it be done to me accordingly. Great was the response by Mary. Thereby, Mary became a part of the salvation of mankind, not only the mother of Jesus but the Heavenly mother of all mankind, to one who believes. She was God's mother and sinless, that is why God took her to heaven with body and spirit and she is with God in Heaven. This is our belief. She will intermediate between us and God if we pray to her constantly because she is the mother of our Lord Jesus Christ.
Thus the feast of Nativity (Monthi fest) is a festival of peace and unity, of joy and love and happiness. The entire family gets together during this special season. I wish joy, blessings and message of Nativity through our Mother Mary shower upon among all mankind.
"Mother Mary is the most beautiful and perfect creation among all creations of God. She is the mother of our Lord Jesus and the first love of the world. As the feast of Nativity of Blessed Virgin Mary is celebrated as girl child day in the church lets pray for girls who are exploited and deprived of the rights to live in the society and we pledge to protect them. Let our family bonds be strengthened as we come together and share the meal with the new corn. Grace Ministry family wish you all a happy feast of nativity,".