Grace Ministry weekly prayer starts back in Bangalore at the same place.
Grace Ministry - Bangalore Prayer.
08-02-2020
---
Grace Ministry, Bro Andrew Richard's weekly prayer starts back in Bangalore from 11th Feb, 2020 at the same place at SN complex, Nagarabhavi without any changes.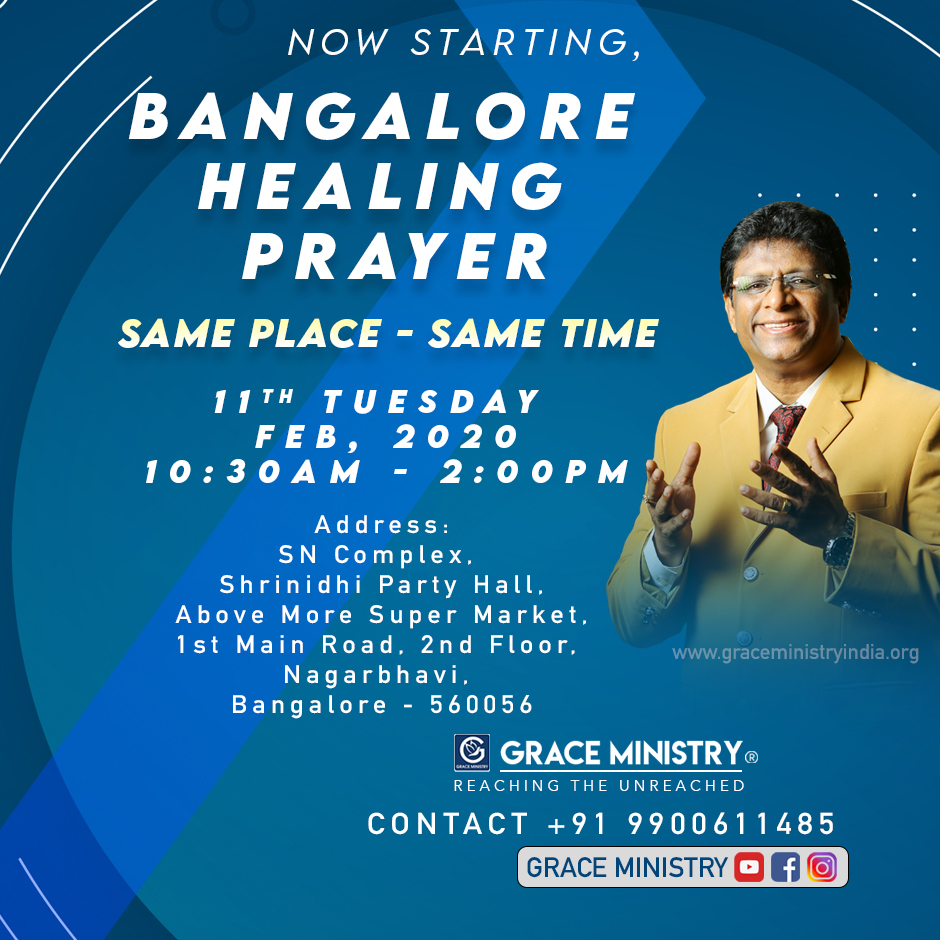 Some miscreants had distributed the activities of the Grace Ministry prayer in Bangalore alleging false allegations and spreading false rumors out of Jealousy against Bro Andrew Richard and the ministry. Our God is gracious; the prayers have commenced back, giving us victory by Jesus and proving the said allegations were false and baseless. The weekly prayers will continue at the same venue at SN Complex Hall at Nagarabhavi, Bangalore on every Tuesdays from 10:30 AM - 2:30 PM.
Come and be blessed. Special intercessory prayers will be held for all the prayer requests received. Be a part of praying for others, and you will be greatly blessed.
So bring your family and friends. Bro Andrew's Word will change you and set you free. Many will be saved, filled with the Holy Spirit and healed. Worship led by Bro Isaac Richard and Sis Hanna will uplift and encourage you. You'll be glad you were there!
Information:
Contact Details:
+91 9900611485
Timings:
10:30 AM - 2:00 PM
Venue:
Grace Ministry, Bangalore
S N Complex, ShriNidhi Party Hall,
2nd floor Above More Super Market,
1st Main Road, 2nd Cross Rd,
MPM Layout, Naagarabhaavi,
Bengaluru, Karnataka 560056
Google Maps: https://bit.ly/38nJfad