Join the Night Vigil by Grace Ministry at Prayer Center in Mangalore, Nov 04, 2017
Night Vigil - November | Mangalore
01-11-2017
---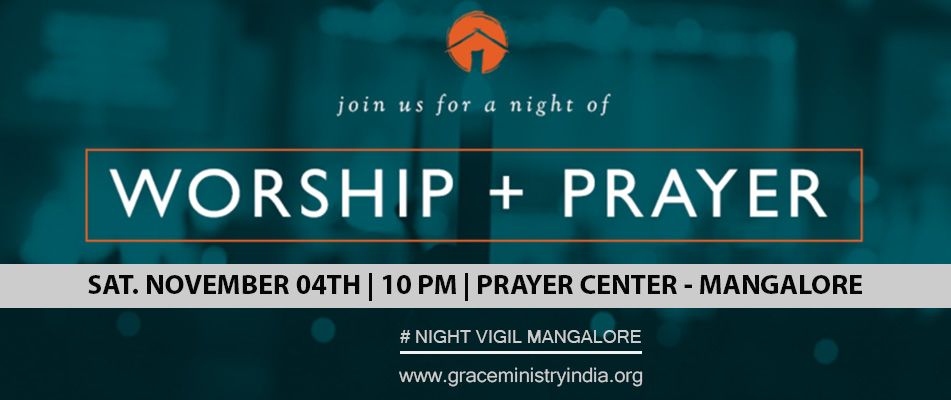 God clearly spelled out His good and perfect will for us in 1 Thessalonians 5:18 when He inspired the Apostle Paul to write: "In everything give thanks, for this is God's will for you in Christ Jesus." Did you catch that? In everything. In the good times, as well as the bad. In the pleasantries of life, as well as in the pain. During difficult times, trying times and frustrating times, too.
I take this oppurtunity in inviting you to Join the Night Vigil organized by Grace Ministry at Prayer Center in Mangalore on November 04, 2017. Experience Inner Healing, Deliverance, transformation, and blessing that God has in store for you.

Memorize: "And at midnight Paul and Silas prayed, and sang praises unto God: and the prisoners heard them" (Acts 16:25)

Special prayers will be offered to those Prayer Requests that has reached through emails, social media, phone, and fax.

Prayer is the key to touch and move the heart of God

Come for BREAKTHROUGHS (Finance, Studies, Relationship, Debt, Sickness, Healing.)

Come for DELIVERANCE & HEALING.

Come to Experience INTIMACY WITH GOD.

Come to Pray for your FAMILY & FRIENDS.

Come to Hear TESTIMONIES OF VICTORY.

Come & Meet NEW FRIENDS.
---
EVENT INFO,
Date: Nov 04, Saturday 2017

Time: 10:00PM - 6:00AM

Venue:

Grace Prayer Center

Near Expert | Srinivas College

Valachil, Merlapaduv,

Mangaluru - 574143

Karnataka, South India

NOTE: Buses have been arranged from Kankanady Market to Prayer Center, Merlapaduv - Bus will arrive at sharp 8:30PM (Pickup and Drop)