Join Wedding Anniversary celebration of Bro. Andrew Richard and Sis.Hanna in Bangalore | May 7th, 2023.
Wedding anniversary Bro. Andrew Richard | Bangalore 2023
05-05-2023
---
Join the wedding anniversary celebration with the prayer service of Bro. Andrew Richard and Sis. Hanna on May 7th, 2023, at Budigere in Bangalore.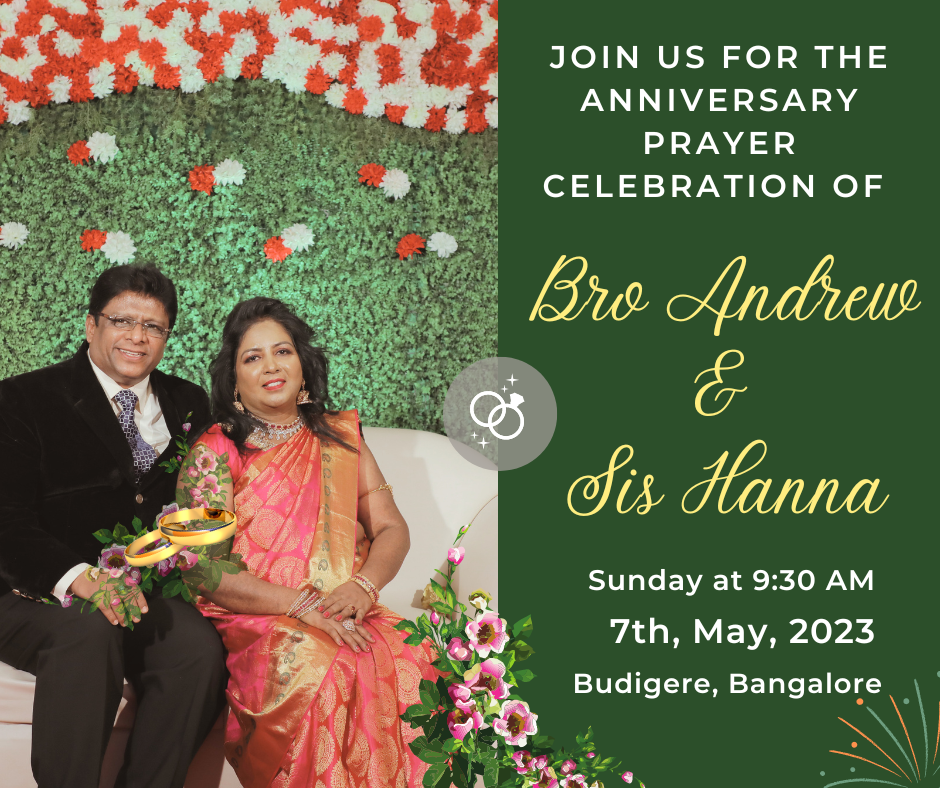 Bro Andrew Richard is a charismatic preacher, Visionary, Provocative thinker and also known for extending a hand of help to the needy, heart of compassion to the hurting, and message of inspiration to the disenfranchised, he operates the Grace Ministry Mangalore, a global humanitarian organization in India with the aim of reaching the unreached.
Amiable and Noble Woman Sis Hanna Richard began her role as a supportive wife to Bro Andrew Richard on 6th May 1996. Sis Hanna is committed to helping women, Downtrodden and the oldsters find their purpose and reach their highest ptential in Jesus. Sis Hanna Richard was a perfect gift and treasure according to God's plan in the life of Bro Andrew Richard. Today, she stands as a prophetic servant of God before thousands of people bringing God's mighty presence and power through prayer.
Date: 07-05-2023
Address:
Grace Ministry,
Budigere, Bangalore
For More details contact Call Centre: 9900611485