Powerful Exam Prayer 2020 for Success by Grace Ministry.
Exam Prayer 2020
24-02-2020
---
Here is an excellent anointed and powerful Exam Prayer 2020 by Grace Ministry for those trying hard to study for exams and also for students who are in fear about their exams. The Bible says in the Book of James 1:5, If any of you lacks wisdom, he should ask God, who gives generously to all without finding fault, and it will be given to him. James 1:5.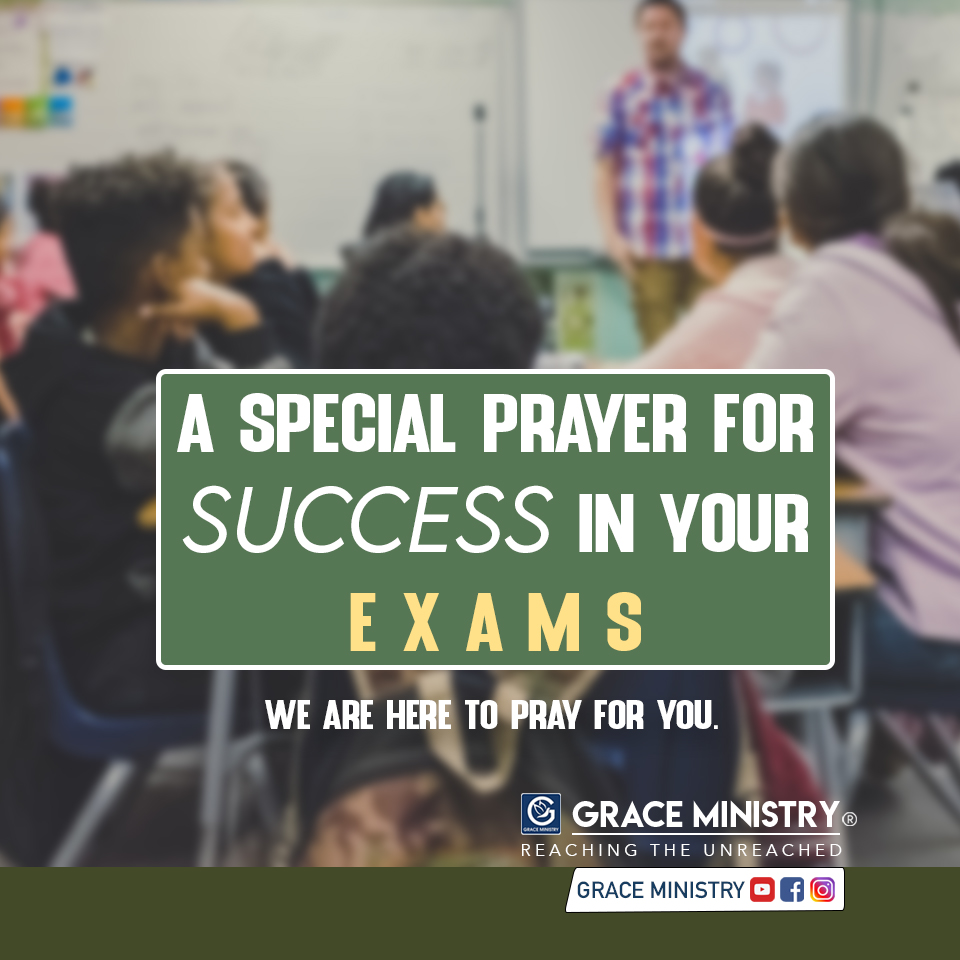 Watch Live Prayer Video
On this page, you'll see a short prayer to help with an exam test, as well as a calming Prayer video with a request for peace of mind.
Sometimes we tend to lean on our wisdom but as the saying goes, "A wise man makes his own decisions, an ignorant man follows the public opinion." Sometimes we follow others because their opinion is loud in our ears, but sometimes they can be wrong. They can lead to unwanted stress, failure, fear, and depression. This exam season, let's be wise and submit to God. As we do that, He will make our paths straight. He will help us score more than what we had expected. Whatever you might think is impossible, He will make it possible.
---
Loving Heavenly Father,
I love You Father; I love You with all my heart, my soul and my mind; please look down with mercy on me as I come to Your feet praying for success in my exams. Lord, the Bible says that the horse is made ready for the day of battle, but victory rests with the Lord! As I prepare for the exams, please give me the treasures of wisdom and knowledge which belong to You.

Give me a heart of wisdom and understanding too. Fill me with your spirit of wisdom just as You made young Daniel ten times wiser. Lord, You are a wonderful Counselor and magnificent in Your works! Give me good counsel during my exams and teach me the lessons I have to study and how to prepare well. Give me sharp memory, so that I can retain all that I have studied in my mind. As you were with Joseph and made him successful, be with me and make me successful. Jesus, You have promised, 'Surely I am with you always, to the very end of the age; I will never leave you nor forsake you.' Be with me during the time of exam and help bring to my memory all that I have studied; give me the grace to write the correct answers for each of the questions given and complete my exam within the stipulated time. Grant me favour in the eyes of those who correct my answer sheets. Father, during my exams, give my family and me good health, free from any exigencies. Give me a calm mind that trusts in You.

Father, I thank You and praise You for making me victorious in Christ and honoring me by giving me great success in the exams. I pray in the mighty Name of Jesus and God the Father, Amen!
In Jesus' name, I pray.
(Scripture verses used in this prayer: Col. 2:3 ; James 1:17 ; John 1: 16 ; Prov. 21:31; Isaiah 41:10; I John 4:18; Psalm 20:7; Joshua 1:5 ; Heb. 13:5 ; Eph. 3:20 ; Isa. 11:2 ; Psalm 65:2; Jer.29:11; John14:27).