Prayer for Studies and Exams 2018 - Bro Andrew Richard
Exam Prayer 2018
26-02-2018
---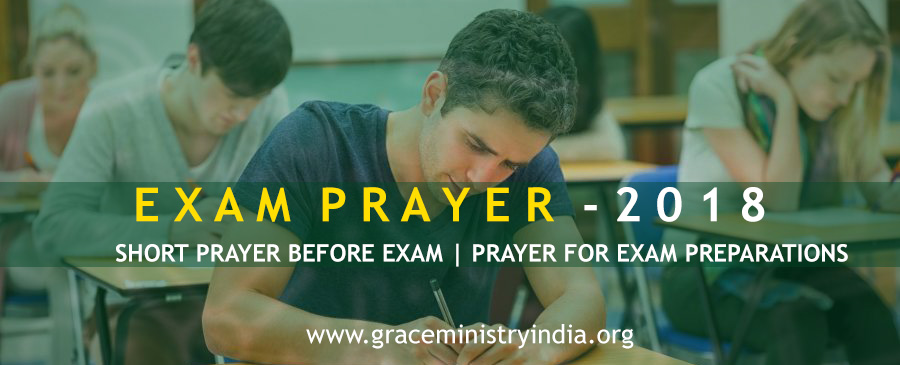 Here is a fascinating anointing prayer by Bro Andrew Richard for those striving hard to study for exams and also for students who are in anxiety about their exams. Father be with me as I take this exam. The Bible says in the Book of James 1:5, If any of you lacks wisdom, he should ask God, who gives generously to all without finding fault, and it will be given to him. James 1:5

On this page you'll find a short prayer to help with an exam test, as well as a calming Prayer video with a request for peace of mind.

Prayer To Prepare For An Exam
Loving Father, as I get myself ready for my forthcoming exam I ask that You give me the wisdom and strength to really get my heart and my mind properly prepared. Keep my mind from nervous distractions and give me Your perfect peace in my heart - as I make my make myself ready for these important exams, I pray.

Thank You Lord for giving me this opportunity to study and that You have been with me throughout the past months, so that I will be equipped with the right knowledge and qualification for my future work.

Thank You that You have been with me throughout this course – for my hope and strength is in You – and Lord as I now come to the end of this particular period in my life I pray that You uphold me with Your righteous right hand and guide me as I move forward in my life, in Jesus name I pray, Amen.
Prayer – When Going Into An Exam

Loving heavenly Father, as I sit here, waiting to take this exam, I ask that You would be with me throughout the entire time. Fill my heart Lord with Your peaceful serenity and I pray that my mind may think clearly throughout the exam and that I may answer the questions well.

Lord that I may sense Your peace in my heart as I apply myself to the challenges of today and enable me to focus my attention appropriately on each question, throughout the entire examination, and bring to my mind all that I have learned over the last months, I proclaim and declare victory, for life and death is at the power of the tongue. I will rejoice at the sound of my triumph as I exit the exam room on that glorious day. In Jesus' Mighty name,Amen!!

Thank You Lord that You are always there, in Jesus name I pray, Amen.
Exam Prayer for Students by Bro Andrew Richard (kannada)
Exam Prayer (konkani)
Wishing You Good Luck For Your Exams.
Be Patient And Have Faith In Yourself.
Everything Will Will Work Out For The Best
God Bless you.