Mega Blessing Prayer in Vellore, Tamil Nadu
Vellore Blessing Prayer - March 8th
03-03-2017
---
Join the Mega Blessing Prayer by Grace Ministry Bro Andrew Richard, A Prayer Festival with a mission to pray and bring healing to the broken-hearted people in and around Vellore, Tamil Nadu.
By the abundant grace of God, our retreat prayers conducted across the globe have been a blessing to millions; cancers disappear, the lame walk, the deaf hear, demonic oppressions leave and the list goes on. We believe that this will happen at the Vellore Blessing Prayer too.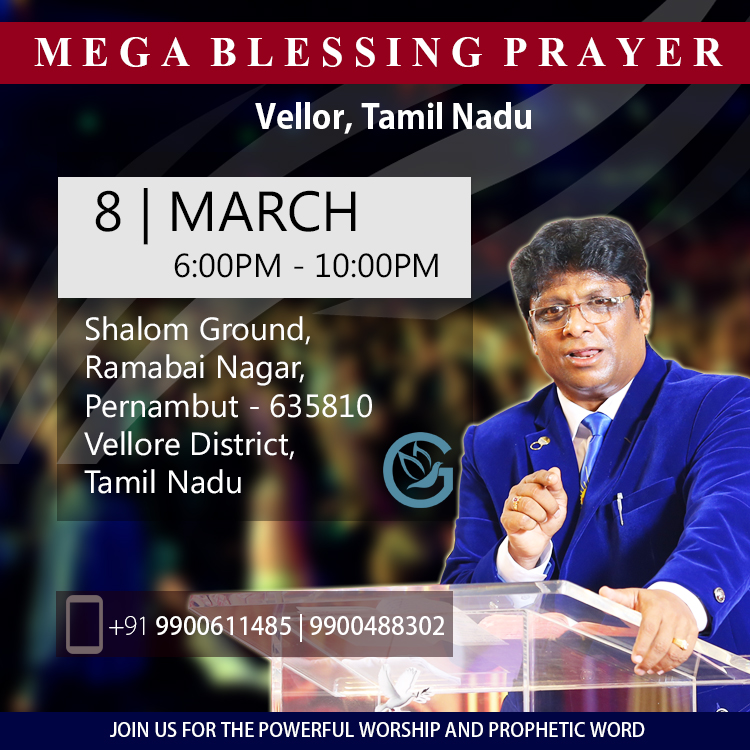 Morning Prayer conference, Vellore:
Date: 8.03.2017
Time: 10:00AM - 1:00PM
Venue: Jesus Loves Prayer Hall, V.K Road,
Pernambut - 635810,
Vellore, Tamil Nadu
---
Mega Blessing Prayer, Vellore:
Date: 8.03.2016
Time : 5:30PM - 10:00PM
Venue: Shalom Grounds, Rambai Nagar,
Pernambut - 635810
Vellore, Tamil Nadu
Contact details: +91 9900611485 | 9900488302
This will be the right platform where God can demonstrate His love for His people. Would you prayerfully consider helping us to fulfill this mission?
S U P P O R T T H E V E L L O R E B L E S S I N G P R A Y E R