Saint of the Day for June 25th, 2018 - St. William of Vercelli
Saint of the Day Online
25-06-2018
---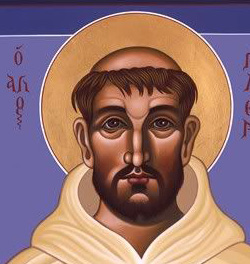 Saint Name: St. William of Vercelli
Place: Vercelli, Italy
Birth: 1085
Death: 1142
Feast: 25 June
St. William of Vercelli was born in 1085 into a noble family of Vercelli in northwest Italy and brought up by a relation after the death of his parents.
He undertook a pilgrimage to Santiago de Compostela. On his pilgrimage to Compostela, William asked a blacksmith to make an iron implement that would encircle his body and increase his suffering, and he wore it throughout the pilgrimage.

By 1119 his followers were united in the Benedictine congregation, the Hermits of Monte Vergine (Williamites) which he headed. The austerity of his rule led to dissension among his monks to restore peace he left and was taken under the protection of Roger I of Naples who built a monastery for him in Salerno.

While at Montevergine, William of Vercelli is stated as having performed miracles. Roger II of Sicily served as a patron to William, who founded many monasteries for men and women in Sicily. The Catholic Encyclopedia states that Roger built a monastery opposite his palace at Salerno in order to have William always near him.

The inflow of the faithful was for the priests the opportunity to exercise their ministry, and the hermit life that William sought was compromised. Moreover, his confreres did not tolerate that lifestyle too austere and full of privations. Therefore, he left Montevergine in 1128 and settled on the plains in Goleto, in the territory of Sant'Angelo dei Lombardi, between Campania and Basilicata, where he began a new monastic experience, a double monastery built mostly by women.

Subsequently, he founded several other monasteries of the same rule but mostly remained in Goleto except for some trips to Apulia. Eventually, he died in Goleto on June 25, 1142.