Saint of the Day Online - St Abban
Saint of the day online, Friday, March 16, 2018
16-03-2018
---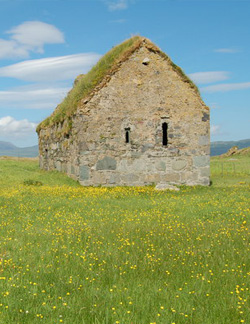 St Abban is a saint in Irish tradition. He was associated, first and foremost, with Mag Arnaide and with Cell Abbáin (Killabban, County Laois). His cult was, however, also connected to other churches elsewhere in Ireland, notably that of his alleged sister Gobnait.
His interest in the saint partly stemmed from the fact that Mag Arnaide lay within the diocese of Ferns, but as this was only a minor church in his time, more must have been involved. An episode which shows something of Ailbe's personal attachment to the saint's cult is that where the saint arrives in the area between Éile and Fir Chell, i.e. on the marches between Munster and Leinster: Abbán converts a man of royal rank from the area and baptises his son. Ailbe is known to have been a native of this area, but his own commentary as apparently preserved in the Dublin Life identifies the connection more nearly: "I who gathered together and wrote the Life am a descendant of that son" However, the immediate circumstances which prompted the composition of the Life are likely to have been political, relating to Norman presence in the diocese of Ferns. To support his case, Ailbe made much of the saint's wider connections to other churches and saints, making him travel all across the country and in the case of the anecdote about Abingdon, even inventing tradition.
However, Abbán's activities were also linked to many other parts of Ireland. Of special note is the tradition that St Gobnait was his sister and that his grave was to be found near her church or nunnery in Bairnech, now Ballyvourney (Muskerry, Co. Cork). As the later recensions suggest, Ailbe's original Life seems to build on this connection by claiming that Abbán founded Ballyvourney and gave it to his sister. According to his Lives, he began to found a string of churches after returning from a second visit to Rome. Other churches said to have been founded by him include Cell Ailbe (Co. Meath) and Camross (Co. Laois), as well as a monastery at Nurney, County Carlow of which an early high cross survives.

The Bollandists argued that the Abbán of Mag Arnaide and the Abbán of Cell Abbáin were originally two distinct saints, one commemorated on 16 March, the other on 27 October, but that the two were conflated from an early period. This conclusion, however, has been rejected by scholars like W.W. Heist and Charles Plummer.

There is also a brief biographical reference to Saint Abbán in the official hagiographical compilation of the Orthodox Church, The Great Synaxaristes, for 13 May. This source states that he was baptised in 165 AD, became a missionary in the Abingdon area of England, and reposed in peace.
In the Martyrology of Tallaght, the Félire Óengusso and the Martyrology of Gorman, Abbán has two feast-days: 16 March and 27 October, which is identified in the Lives as his death-date. John Colgan and Ó Cléirigh's Martyrology of Donegal only mention Abbán for 16 March.
© Copyright 2018 Grace Ministry Mangalore.