Saint of the Day Online - St Bruno
Saint of the day online, Friday, October 06, 2017
05-10-2017
---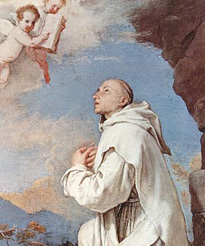 Saint Name: St Bruno
Place: Cologne, Archdiocese of Cologne
Birth: 1030
Death: 5 October, 1101
Feast: October 06
St Bruno who was born on c. 1030 was the founder of the Carthusian Order, he personally founded the order's first two communities. He was a celebrated teacher at Reims, and a close advisor of his former pupil, Pope Urban II. His feast day is October 6.
Bruno was born in Cologne of the prominent Hartenfaust family. He studied at the Cathedral school at Rheims, and on his return to Cologne about 1055, was ordained and became a Canon at St. Cunibert's. He returned to Rheims in 1056 as professor of theology, became head of the school the following year, and remained there until 1074, when he was appointed chancellor of Rheims by its archbishop, Manasses. Bruno was forced to flee Rheims when he and several other priests denounced Manasses in 1076 as unfit for the office of Papal Legate. Bruno later returned to Cologne but went back to Rheims in 1080 when Manasses was deposed, and though the people of Rheims wanted to make Bruno archbishop, he decided to pursue an eremitical life.
In 1075, Bruno was appointed chancellor of the Roman Catholic Archdiocese of Reims, which involved him in the daily administration of the diocese. Meanwhile, the pious Bishop Gervais de Château-du-Loir, a friend to Bruno, had been succeeded by Manasses de Gournai, a violent aristocrat with no real vocation for the Church. In 1077, at the urging of Bruno and the clergy at Reims, de Gournai was suspended at a council at Autun. He responded, in typical eleventh century fashion, by having his retainers pull down the houses of his accusers. He confiscated their goods, sold their benefices, and even appealed to the pope. Bruno discreetly avoided the cathedral city until in 1080 a definite sentence, confirmed by popular riot, compelled Manasses to withdraw[3] and take refuge with Henry IV, Holy Roman Emperor, the fierce opponent of Pope Gregory VII.
Bruno became a hermit under Abbot St. Robert of Molesmes (who later founded Citeaux) but then moved on to Grenoble with six companions in 1084. They were assigned a place for their hermitages in a desolate, mountainous, alpine area called La Grande Chartreuse, by Bishop St. Hugh of Grenoble, whose confessor Bruno became. They built an oratory and individual cells, roughly followed the rule of St. Benedict, and thus began the Carthusian Order. They embraced a life of poverty, manual work, prayer, and transcribing manuscripts, though as yet they had no written rule. The fame of the group and their founder spread, and in 1090, Bruno was brought to Rome, against his wishes, by Pope Urban II (whom he had taught at Rheims) as Papal Adviser in the reformation of the clergy. Bruno persuaded Urban to allow him to resume his eremitical state, founded St. Mary's at La Torre in Calabria, declined the Pope's offer of the archbishopric of Reggio, became a close friend of Count Robert of Sicily, and remained there until his death on October 6. He wrote several commentaries on the psalms and on St. Paul's epistles. He was never formally canonized because of the Carthusians' aversion to public honors but Pope Leo X granted the Carthusians permission to celebrate his feast in 1514, and his name was placed on the Roman calendar in 1623. His feast day is October 6.