Saint of the Day Online - St James Intercisus
Saint of the day online, Monday, November 27, 2017
27-11-2017
---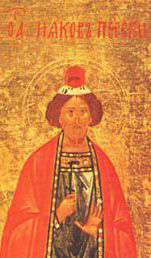 Saint James Intercisus who was born in Persia is also known as Saint James the Mutilated. His surname, Intercisus, is derived from the Latin word for "cut into pieces," which refers to the manner of his martyrdom: he was slowly cut into twenty-eight pieces.
The Church of St. James Intercisus in the Armenian Quarter of Jerusalem is dedicated to him.

The Monastery of St. Jacob Persian in Sireţi, Străşeni Moldova, the Monastery of St. Jacob Persian in Deddeh, Lebanon and the monastery of St James the Mutilated in Qara, Syria are all dedicated to him.

James was a favorite of King Yezdigerd I of Persia and a Christian. He abandoned his religion when Yesdigerd launched a persecution of the Christians. When the king died, James repented of his apostasy and declared himself to be a Christian to the new king, Bahram. When James refused to apostasize, he was executed by having his body cut apart piece by piece, beginning with his fingers (hence his surname Intercisus - cut to pieces), and then beheaded.

His feast day is November 27.