Saint of the Day Online - St Jerome
Saint of the day online, Saturday, September 30, 2017
30-09-2017
---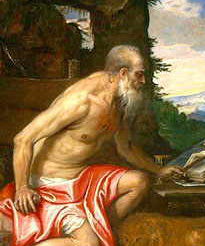 Saint Name: St Jerome
Place: On the border of Dalmatia and Pannonia
Birth: 347
Death: 420
Feast: September 30

St Jerome who was born on 27 March 347 was a priest, confessor, theologian and historian. He was born at Stridon, a village near Emona on the border of Dalmatia and Pannonia.
Before he was known as Saint Jerome, he was named Eusebius Sophronius Hieronymus. He was born around 342 AD, in Stridon, Dalmatia. Today, the town, which ceased to exist in Jerome's time, would likely be in Croatia or Slovenia.

The young Jerome was educated by Aelius Donatus, who was a famous Roman grammarian. From him, the young Jerome learned Latin and Greek. Little else is known of his childhood other than his parents were probably well-to-do and Christian. Despite their efforts to raise Jerome properly, the young man behaved as he chose.

Around the age of 12 or so, Jerome traveled to Rome to study grammar, philosophy and rhetoric. It is likely that due to his training in rhetoric, he may have considered a career in law. By his own admission, he quickly forgot his morals. While he was not studying, Jerome pursued pleasure. In particular, he pursued women, even though he knew his behavior was wrong.

To alleviate the feelings of guilt he often felt afterwards, Jerome would visit the crypts in Rome and imagine himself in hell. He did so every Sunday, even though he was not a Christian. Jerome succeeded in frightening himself, but not in changing his ways.

Fortunately, Jerome had as a companion, Bonosus, who was a Christian influence. His influence is part of what persuaded Jerome to become a Christian and change his ways for the better.
Jerome was known for his teachings on Christian moral life, especially to those living in cosmopolitan centers such as Rome. In many cases, he focused his attention to the lives of women and identified how a woman devoted to Jesus should live her life. This focus stemmed from his close patron relationships with several prominent female ascetics who were members of affluent senatorial families.

He is recognised as a Saint and Doctor of the Church by the Roman Catholic Church, the Eastern Orthodox Church, the Lutheran Church, and the Anglican Communion. His feast day is 30 September.