Saint of the Day Online - St John of God
Saint of the day online, Wednesday, March 08, 2018
08-03-2018
---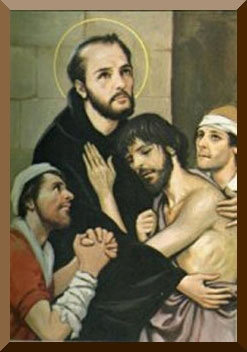 St John of God
St John of God who was born on March 8, 1495 was a Portuguese-born soldier turned health-care worker in Spain, whose followers later formed the Brothers Hospitallers of Saint John of God, a worldwide Catholic religious institute dedicated to the care of the poor, sick, and those suffering from mental disorders. He has been canonized by the Catholic Church, and is considered one of Spain's leading religious figures.
From the time he was eight to the day he died, John followed every impulse of his heart. The challenge for him was to rush to follow the promptings of the Holy Spirit gave him, not his own human temptations. But unlike many who act impulsively, when John made a decision, no matter how quickly, he stuck with it, no matter what the hardship.

At eight years old, John heard a visiting priest speak of adventures that were waiting in the age of 1503 with new worlds being opened up. That very night he ran away from home to travel with the priest and never saw his parents again. They begged their way from village to village until John fell sick. The man who nursed him back to health, the manager of a large estate, adopted John. John worked as a shepherd in the mountains until he was 27. Feeling pressure to marry the manager's daughter, whom he loved as a sister, John took off to join the Spanish army in the war against France. As a soldier, he was hardly a model of holiness, taking part in the gambling, drinking, and pillaging that his comrades enjoyed. One day, he was thrown from a stolen horse near French lines. Frightened that he would be captured or killed, he reviewed his life and vowed impulsively to make a change.
John experienced a major religious conversion on Saint Sebastian's Day (January 20) of 1537, while listening to a sermon by John of Ávila, a leading preacher of the day who was later to become his spiritual director and would encourage him in his quest to improve the life of the poor. At the age of 42 he had what was perceived at the time as an acute mental breakdown. Moved by the sermon, he soon engaged in a public beating of himself, begging mercy and wildly repenting for his past life. He was incarcerated in the area of the Royal Hospital reserved for the mentally ill and received the treatment of the day, which was to be segregated, chained, flogged, and starved. Cidade was visited by John of Avila, who advised him to be more actively involved in tending to the needs of others rather than in enduring personal hardships. John gained peace of heart, and shortly after left the hospital to begin work among the poor.

Around this time, he made a pilgrimage to the shrine of Our Lady of Guadalupe in Extremadura, where it is said he experienced a vision of Mary, who encouraged him to work with the poor. Cidade expended all his energy in caring for the neediest people of the city. He established a house where he wisely tended to the needs of the sick poor, at first doing his own begging. When John began to put into effect his dream, because of the stigma attached to mental illness, he found himself misunderstood and rejected. For some time he was alone in his charitable work, soliciting by night the needed medical supplies, and by day attending to the needs of his patients and the hospital; but he soon received the cooperation of charitable priests and physicians. Many stories are related of the heavenly guests who visited him during the early days of his immense tasks, which were lightened at times by the archangel St. Raphael in person. To put a stop to his custom of exchanging his cloak with any beggar he chanced to meet, Sebastian Ramirez, Bishop of Tui, had a religious habit made for him, which was later adopted in all its essentials as the religious garb of his followers, and the bishop imposed on him for all time the name given him by the Infant Jesus, John of God.
John of God is patron saint of booksellers, printers, heart patients, hospitals, nurses, the sick, and firefighters and is considered the founder of the Brothers Hospitallers.