Saint of the Day Online - St Louise de Marillac
Saint of the day online, Thursday, March 15, 2018
15-03-2018
---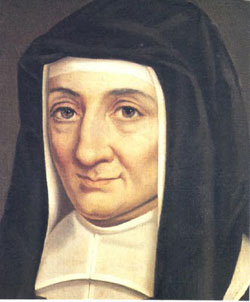 Saint Louise
Saint Louise de Marillac who was born on August 12, 1591 was the co-founder, with Saint Vincent de Paul, of the Daughters of Charity.

She never knew her mother. Louis de Marillac, Lord of Ferrires (1556-1604),claimed her as his natural daughter yet not his legal heir. Louis was a member of the prominent de Marillac family and was a widower at the time of Louise's birth. Her uncle, Michel de Marillac, was a major figure in the court of Queen Marie de' Medici and, though Louise was not a member of the Queen's court, she lived and worked among the French aristocracy. Thus Louise grew up amid the affluent society of Paris, but without a stable home life. When her father married his new wife, Antoinette Le Camus, she refused to accept Louise as part of their family. Nevertheless, Louise was cared for and received an excellent education at the royal monastery of Poissy near Paris, where her aunt was a Dominican nun.

Devastated by this refusal, Louise was at a loss as to the next step in her spiritual development. When she was 22, her family had convinced her that marriage was the best alternative. Her uncle arranged for her to marry Antoine Le Gras, secretary to Queen Marie. Antoine was an ambitious young man who seemed destined for great accomplishments. Louise and Antoine were wed in the fashionable Church of St. Gervaise on February 5, 1613. In October, the couple had their only child, Michel. Louise grew to love Antoine and was an attentive mother to their son. Along with being devoted to her family, Louise was also active in ministry in her parish. She had a leading role in the Ladies of Charity, an organization of wealthy women dedicated to assisting those suffering from poverty and disease.

She took her vows in 1634 and attracted great numbers of candidates. She wrote a rule for the community, and in 1642, Vincent allowed four of the members to take vows. Formal approval placed the community under Vincent and his Congregation of the Missions, with Louise as Superior. She traveled all over France establishing her Sisters in hospitals, orphanages, and other institutions. By the time of her death in Paris on March 15, the Congregation had more than forty houses in France. Since then they have spread all over the world. She was canonized by Pope Pius XI in 1934, and was declared Patroness of Social Workers by Pope John XXIII in 1960. Her feast day is March 15th.
© Copyright 2018 Grace Ministry Mangalore.