Lame Man Walks Instantly at Grace Ministry retreat
Lame walks - Live Miracle
20-05-2016
---
Glory to God in the highest ! I have no words to thank the Lord for the miracle that he's made in my Life . The Bible says in Matthew 11:5, The blind receive sight, the lame walk, those who have leprosy are cleansed, the deaf hear, the dead are raised, and the good news is proclaimed to the poor.
My situation was indeed very problematic "I remember that I couldn't walk . They called me a Lame. But now I can walk, upright and without help. This makes me really glad.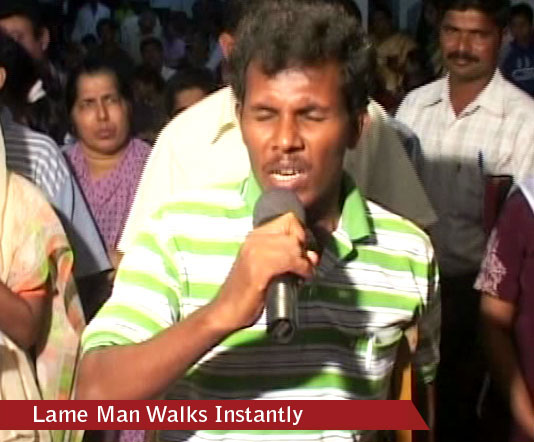 I was a man of prayer but due to certain circumstances that came across my life I left praying and reading the God's word and completely became alcoholic. My wife was constantly telling me that I need to pray and read the Bible but each time she advises me, I was yelling at her that nothing is going to happen by praying. But unfortunately, I met with an accident last November in which I lost all my strength of walking and doctors said there are very little chances for me to walk again, I was devastated to hear this and was broken. Thank God by one of my friend I came to know about the prayers of Grace Ministry in Mangalore to which I attended and Bro Andrew prayed for me and I came with the hope that God will forgive my sins and make me a new creation and heal me . As Bro Andrew was praying over me I felt the touch of God entering me and I was able to walk instantly and now I can walk upright without help. Glory to God alone for the miracle that God has done in my life. I thank Bro Andrew and Grace Ministry for their prayers.
Watch Live Testimony :
Since everything is possible for God, you can experience miracles in your life when you invite God to intervene – even in situations that seem impossible. But too often, people neglect to ask God for miracles in their lives and end up settling for far less than God's best for them.You can always approach God with confidence if you trust him. So don't hesitate to pray about anything. Be Blessed .