Life changing testimony: From Bicycle to Business proprietor
Life changing testimony of God
20-12-2016
---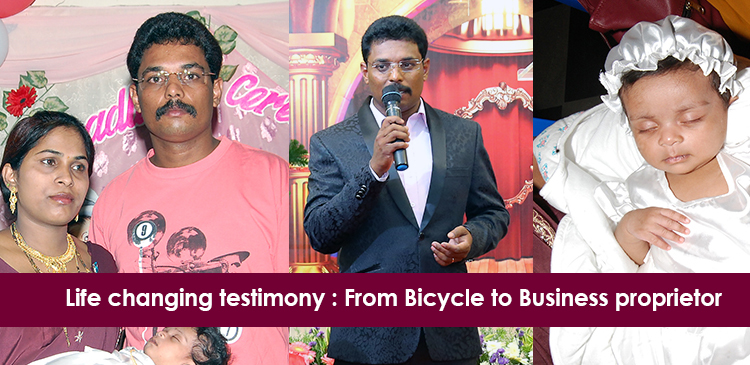 Early life:
Am a resident of Bengaluru hailing all the way from Sirsi, Karnataka with a background of poverty right from my childhood, as my parents used to pursuit a simpler job to earn our daily living with minimum wages. I owned a bicycle as a mark of my condition and my life was drowned with distress, despair & darkness over the years finding no ray of hope in my life. Having lost my Dad came alongside with my Mother to Bengaluru from Sirsi with no money in the pocket hoping someone would help me find hope.
Introduced to Grace Ministry: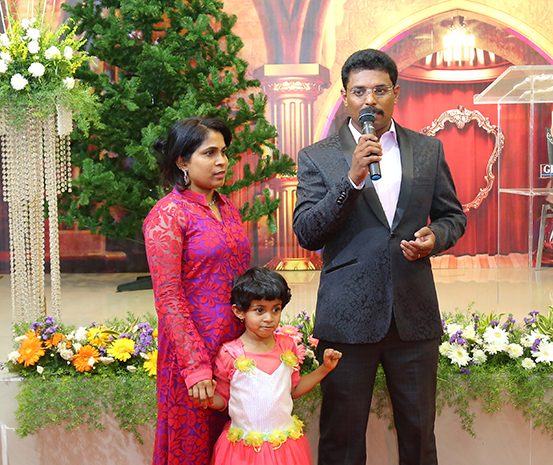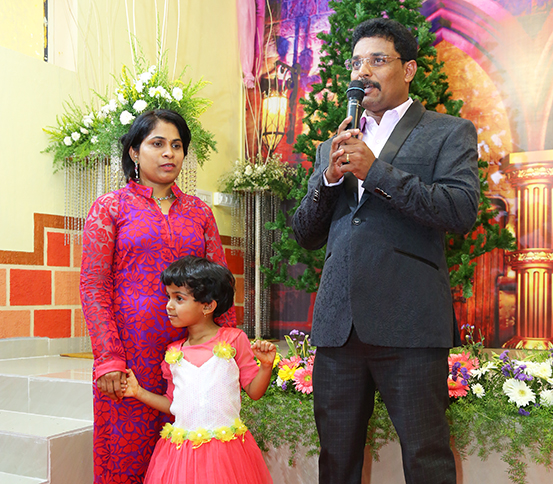 Finally, my mother was introduced to Grace Ministry and she insisted me to come and meet Bro Andrew Richard, but I always refused to meet him. But somehow my mother took me forcefully to Grace Ministry and as I was talking to Bro Andrew he prophesized me saying within a few months God is going to bless you with a good job and you will also be blessed with a two-wheeler, but the moment I heard this, I began to laugh at myself, thinking I have no single rupee in my pocket and how would I afford a bike in my life, I was mocking at the prophecy that Bro Andrew said.
Gradually I began to attend the prayers of Grace Ministry and the moment I used to meet Bro Andrew & Sis Hanna, I used to feel the very touch of God which was moving my heart. I felt a ray of hope by listening to the prophetic word from Bro Andrew. The word was so powerful that I myself didn't know that God can use an empty, rejected, cursed person like me. The word of God made a great impact on me that I was blessed with a wonderful Job and a two wheeler in Bengaluru and then I realized how I mocked at God's prophecy but in reality am really blessed with the Job and two wheeler. This is where I got much trust and hope in the Lord and taught for a while what Bro Andrew prophesized was so true from the Lord.
My wife was under the Demonic attack:
From then on life had driven me to a new way ahead of where I had to share my life with my life partner. But at first it didn't go well because my partner was attacked with evil bondages, the demon was ruling over her life for years and at a moment I felt it was truly impossible to marry her. The demons were even troubling me of not to marry her, and I had lost all hopes. But, that was the time I took my partner to Bro Andrew and the moment he laid his hands on her there was a complete deliverance on her life and we stepped into a new life successfully.
Miracle Baby Born: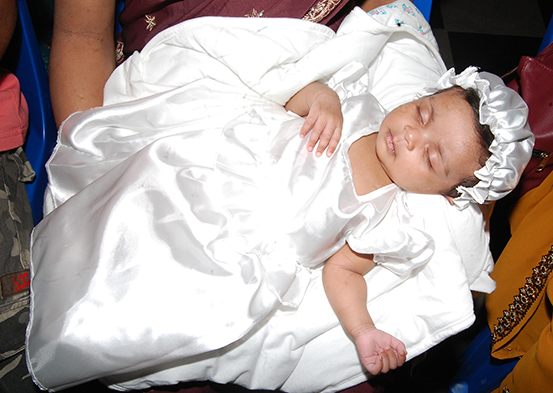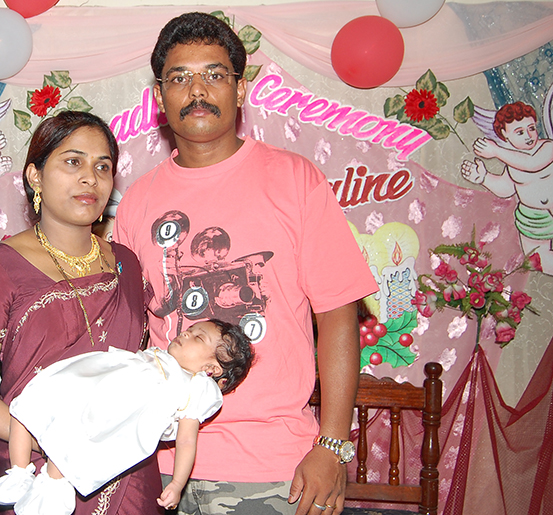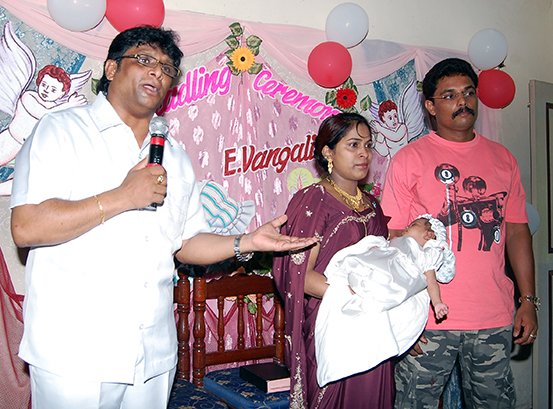 The hurdles & trials were after us because for more than 2 years we were childless. Later then my wife had to overcome those 9 months of gestation amidst abundant hardships. That was the time Bro Andrew and Sis Hanna prayed over my wife, doctors said it is truly impossible for her to conceive but the Lord promised that He would open my wife's womb by his grace. As the morning dawn arose it brightened our life with the pleasant news of our baby daughter "Evangeline".
Platelet count drops to 5000:
I also once had suffered from Dengue & my platelet count had dropped to 5000 but as Bro & Sis visited my residence & prayed earnestly over me the platelets were increased up to 45,000 followed by a lakh in other 7 days & I was completely bought to normal within a couple of weeks.
From Bicycle to Cars:
I was regularly attending the prayers of Grace Ministry because my life got a turning point there. I was blessed step by step and the word of God created a greater impact on my life but at the other end I had planned to buy a car for tourist purpose but looking at my financial situation I had a big doubt of buying a car. But during one of the prayers, Bro Andrew walking towards the crowd came near me and prophesized me that God wants to tell you something and he said you will be the owner of many cars. This made me go crazy I taught to myself I have no money to buy one car and how could I even be the owner of many cars. But amazingly and supernaturally my own eyes could not believe that God blessed me financially that within a couple of months I was blessed with a brand new car. But the blessings didn't stop here God helped me in opening a travels agency in Bengaluru and I began to buy a variety of cars for tourist purpose.
Today am blessed according to the prophecy that said you will be the owner of many cars and yes it's so true that am leading a big Travels agency with so many cars on my side. And that was the time I taught, at once I came on a bicycle to see Bro Andrew and the word created such a great change in my life that I go to see Bro Andrew in my own car. Glory to God.
All the above miracles stretched my faith to the top & I began to fix my focus on the Lord alone.
Today me & my family are being blessed to the fullest & God is utilizing us for his ministerial deeds.
I would always be grateful to the countless miracles I received by the Lord & through Grace Ministry.
Watch live testimony video,
"The pain that you've been feeling, can't compare to the joy that's coming - Romans 8:18"