Tumor in the Uterus healed at Retreat Prayer in Mangalore
Uterus Tumor
19-10-2016
---
I had a really huge tumour in my uterine glands since 10 months & the medical professionals said that I would require around 8 bottles of blood infusion at the time of surgical removal of the tumor.
As the tumor grew day by day, the pain was so dreadful & unbearable which is why I had to helplessly think of getting myself hospitalised.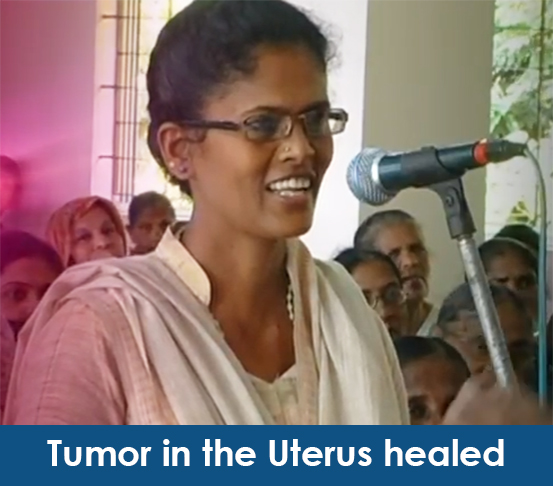 It was then Bro Andrew & Sis Hanna counselled, comforted and prayed over me , after which I went ahead to again revisit the physicians. They then told me that I wouldn't require any sort of surgeries but would only need some medications for the cure. But still, I did not give up my faith and hope in the Lord.
Sis Hanna advised me to apply the Healing oil of Grace Ministry, all over my body & to have faith in God alone & I did so. Every day I began to apply the oil and confessed " Lord by your stripes I am healed"
Following this, in the same week, I had been for a body scan, which revealed the total absence of the tumour, I was completely shocked which not only amazed me but also the medical professionals.
Now my tumor is no more. Jesus has set me free!!
Watch Live Testimony Video:
"For with God, nothing shall be impossible. Cast your burden on the Lord & he will sustain you; He will never allow the righteous to be moved, made to slip, fall or fail"
As the bible says "Lord my God, I called unto you for help & you healed me- Psalm 30:2"